I am writing this as my true first impressions immediately after setup. That said, my first words to describe the PinePhone would be
There's a reason why it says Beta Edition on the box.
   Despite the
shipping problems
, once I got it I couldn't get it to charge nor boot. However I should've read the instructions which said to take the back cover off to remove a plastic separator between the battery contacts and the phone contacts. As soon as the battery insulator was removed I was able to get it to boot fine into Plasma Mobile. Now this is where the fun begins. As soon as it boots it brings you to a quite short initial setup sequence. As soon as you select your language you can tell that this has a long way to becoming stable. A higher percentage of taps don't respond or at least take more time than would be acceptable in a release product. The biggest annoyance I've found with Plasma Mobile is that when you enter into a application that requires keyboard input. The on-screen keyboard will go on top of the bottom (Android style) three button menu; Alone that wouldn't be a problem, you then realize there is no (at least to me) apparent way to make the keyboard go away and no way for the bottom menu buttons to return. You then have to get creative with how to get out.
   There were a few simple things I managed to complete, getting it onto a WPA2 Personal Wi-Fi network was mostly fine. The DNS resolver set in /etc/resolv.conf was set to 127.0.0.53 initially, it correctly got a DHCP address but did not appear to import the DNS server correctly. Manually setting one in the included KDE Settings App didn't help either. I then tried to use vi to edit /etc/resolv.conf directly to realize that I didn't use sudo nor did the on-screen keyboard have any right or down arrow keys and as such I couldn't change nameservers. I then tried using sudo sed -i. However I could not get my passcode to work, despite changing it with passwd proving that PAM used the same password, sudo wouldn't accept my password. Eventually I rebooted and I assume my manual settings from earlier in the settings app took effect after it started back up. Was able to get to and briefly browse kagl.me just fine. Although writing this in retrospect I could've plugged in a keyboard using the included adapter.
   After I had messed with the network settings I then went about putting a SIM card in it. The battery was a little tough to get out but otherwise SIM installation was fine. I put my nano-SIM into the included nano-micro SIM adapter and started it right back up. Seemed to work right away, gave it a call and a notification popped up for the incoming call with an accept and decline button. After hitting accept the notification went away and there was no sign that there was an active call without logging in which raises some privacy concerns regarding calling someone on the hopes they accidently hit the accept button their pocket and they don't realize that a call is in progress. However that isn't as big of a concern for the fact that I could not get the speakerphone function to work. Calls to and from worked just fine minus use of speakerphone.
   What phone would be complete without SMS? I was able to send and receive SMS messages perfectly fine, the notification worked fine. However the included SMS app appears to
only
do SMS and not MMS. Thus I was not able to send or receive photos. Speaking of photos, I went out and took a few. The camera app's previews made me quite nervous until I came in and took a look.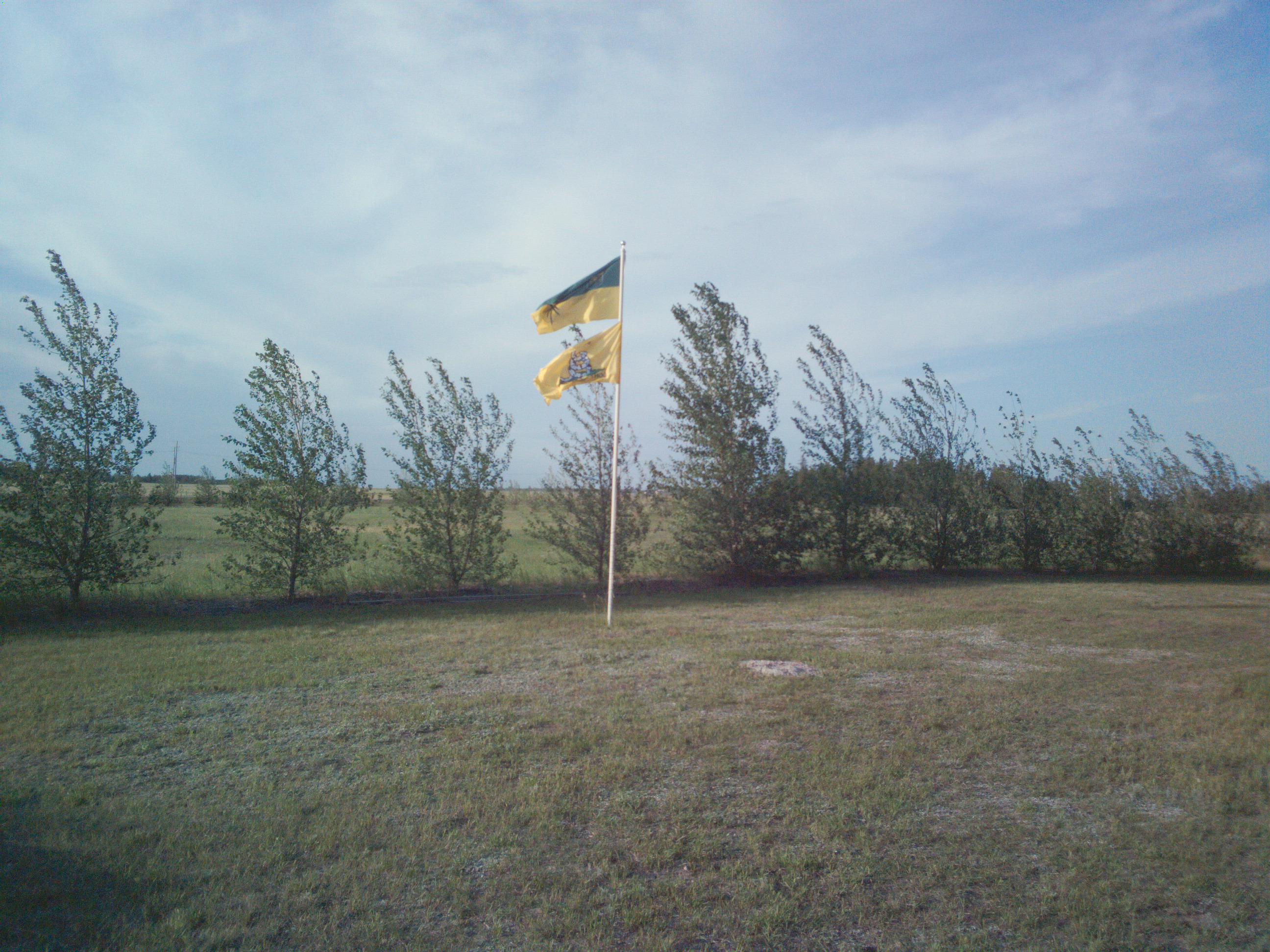 Flags I'll have up till the end of the 4th of July.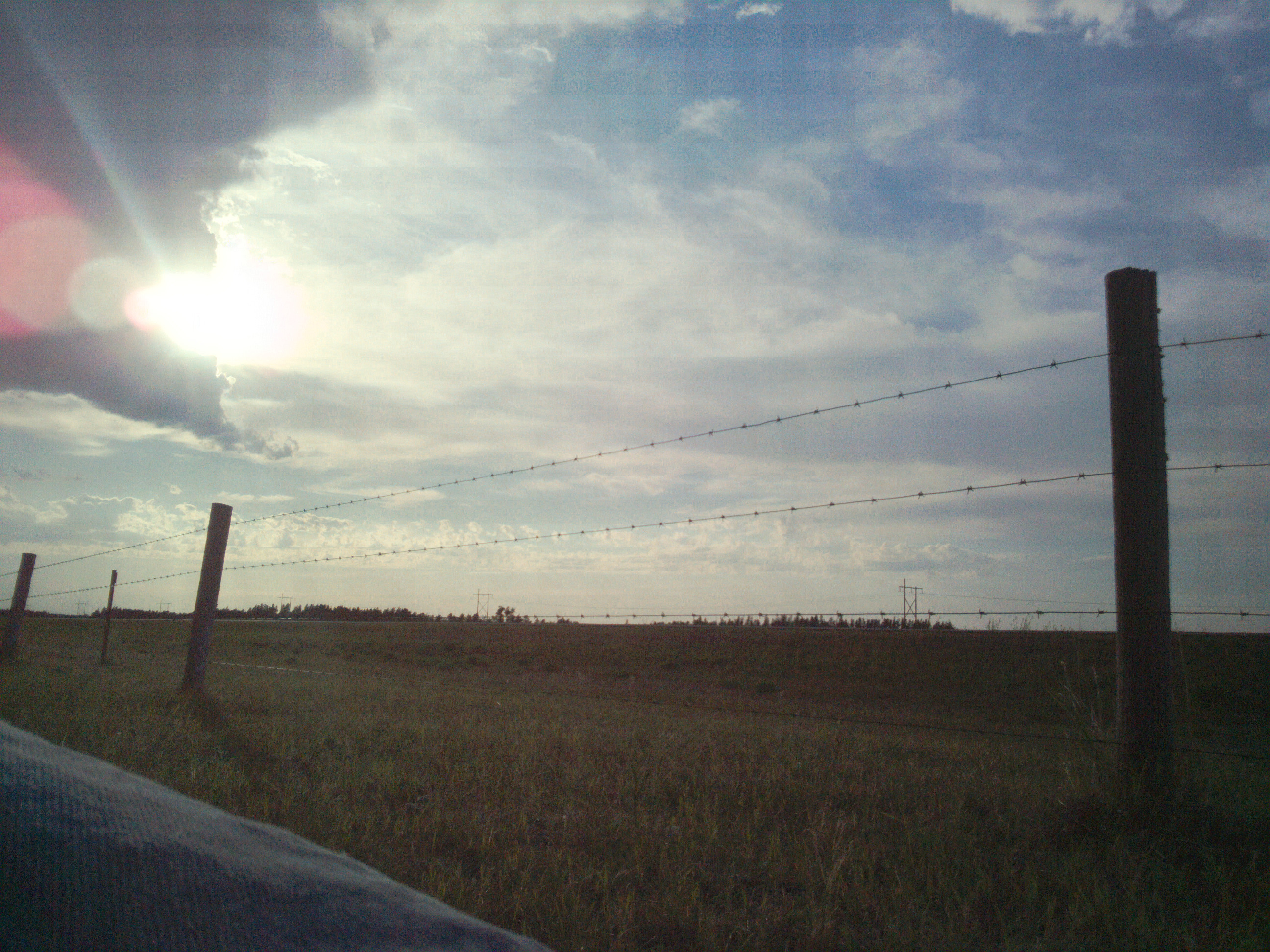 I tried to find exactly where I took the fence photo I use as a background in quite a few places online (including my homepage). I believe these are the same fence posts. Mind my leg, had to get down low and it was hard to preview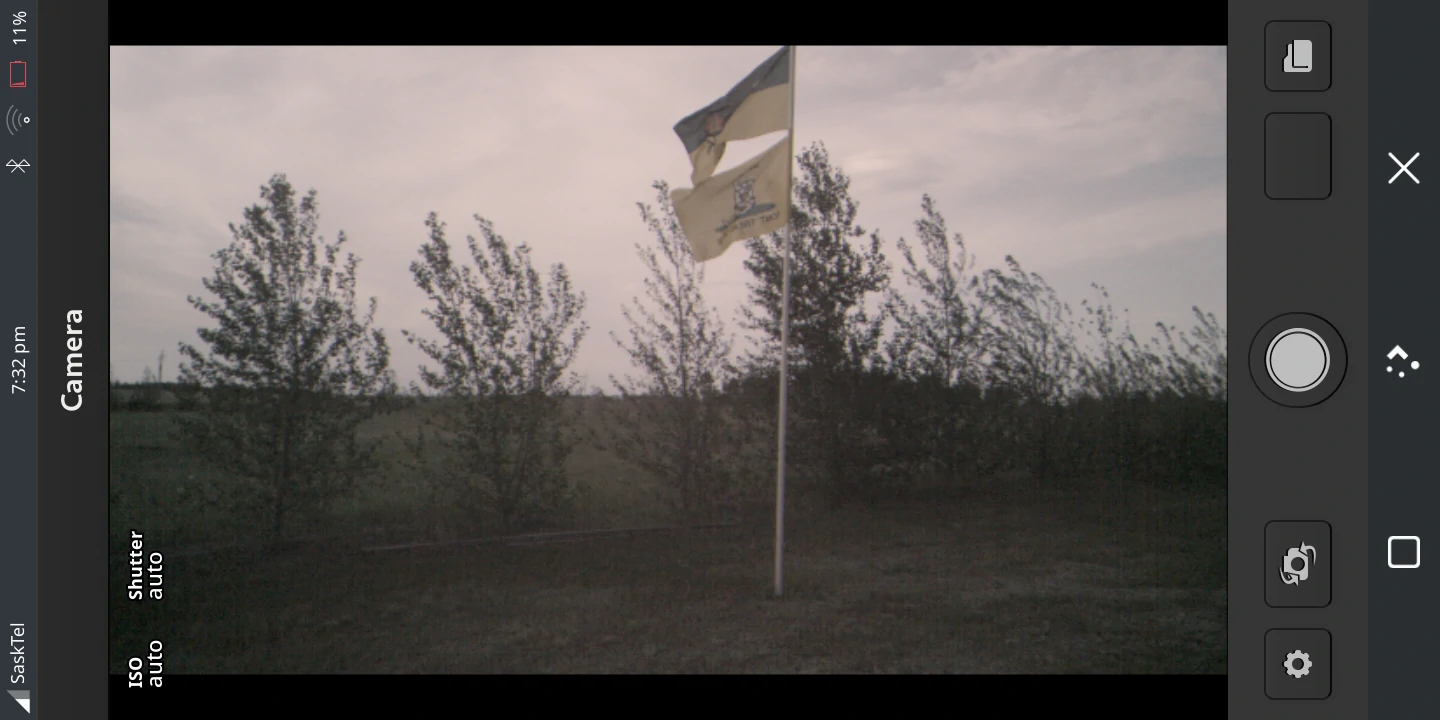 Screenshot of camera preview, not exactly the photo shown above however this was better than how the preview was whilst taken the above photos.
Normally I'd try to compress assets as much as possible however I wanted to preserve the quality as much as possible so you may view them directly as I got them off the phone. All I've done is rotated them with the exception of the screenshot which is a near full quality webp.
   In conclusion, it's about what I'd expect for a USD$150 beta phone. KDE Plasma Mobile is... in need of an exterminator. In two weeks I hope to have a more in depth inspection into both the hardware and KDE Plasma. The only thing I wish I could evaluate is the cellular modem as I do not have the ability to deploy an experimental cellular network (yet, anyway). However I will be doing Wi-Fi test in the middle of an open field along with some other criteria to have a near perfect Wi-Fi test among other hardware tests.    
Now to receive the phone was a larger pain than dealing with the onscreen keyboard.
On Friday, June 25th it was shipped from Hong Kong via DHL.
On Saturday, June 26th I paid the duties and customs online through DHL's website.
As many of the people who'd be reading this would know, I (proudly) live in rural Saskatchewan. I knew that DHL wouldn't have the ability to deliver to my home, let alone my box. Since my mailing address is a box several miles from me that only Canada Post has access to or would know where it is (minus locals). As such I called them ahead of time to sort it out, they said they could have it transferred to Canada Post.
On Tuesday, June 29th It arrived in Saskatoon, Saskatchewan and was transferred, not to Canada Post for last mile delivery. But to Loomis "Express". I called DHL to find out if it could be transferred and DHL couldn't give me a good answer and essentially told me to call Loomis. I called Loomis and was told that it would be transferred to Canada Post and I'd receive a call later that day with a tracking number.
On Wednesday, June 30th I call Loomis back after receiving no call. I was told that it was being transferred today to Canada Post and by 3:00PM I'd receive a call back with a Canada Post tracking number.
At 4:00PM Wednesday, June 30th I call Loomis again after never receiving a call. And the agent this time just gave me no answer to have me realize without saying it that it was stuck in Saskatoon and the only way I was getting it was to go and get it in person.
Thursday, July 1st was a statutory federal holiday.
On Friday, July 2nd I check the tracking number once more. Since Tuesday there had not been any updates and all pointing to it being in Saskatoon. Calling Loomis again and getting the same answer as Wednesday. So I drove 80 miles down to Saskatoon
Once I got to Loomis Saskatoon they asked me "Why are you here? It's been in Prince Albert for days." As such I drove 85 miles to Loomis Prince Albert.
Once I got to Delivery Force Prince Albert (the Loomis last mile affiliate in Prince Albert) I got my package hassle free.
I called Loomis back afterword to file a formal complaint with them. They initially deflected blame to DHL then tried to blame me till I broke it down and the agent finally apologized. Below is a screenshot of Loomis's tracking, DHL has less info.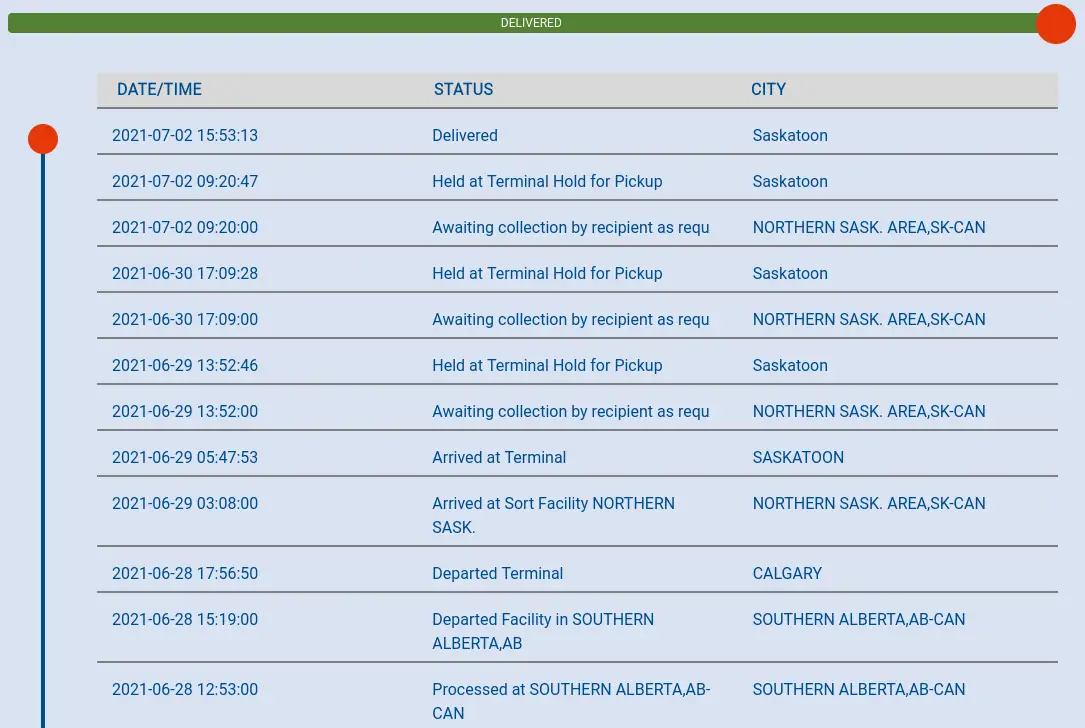 Copyright Keaton A.G. Lair ©2021. All rights reserved.